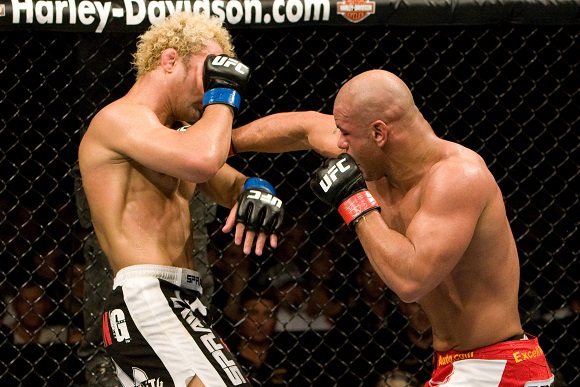 While not exporting UFC fighters at the rate spots like Rio de Janeiro and Curitiba have, Fortaleza is no stranger to producing world-class mixed martial artists.
At one point in 2008, Jorge Gurgel, Antonio Mendes, Marcus Aurelio, Hermes Franca and Wilson Gouveia all called Fortaleza home as they competed in the Octagon. And there was one more fighter of note hailing from the capital of Ceara:
Thiago Alves.
A member of the UFC roster since 2005, the "Pitbull" has represented his city proudly over the last 13-plus years, establishing himself as one of the best welterweights of his era. On February 2, Alves returns home to compete for the first time since 2001 when he takes on Max "Pain" Griffin. And while no one needs a reminder of what Alves has done on fight night, it's always fun to revisit some of his most memorable bouts.
Chris Lytle (Watch on UFC FIGHT PASS)
After building his resume on the regional circuit both in Brazil and the U.S., Alves got the call to the big show in 2005, only to lose his UFC debut to Spencer Fisher. Alves shook off the defeat and proceeded to make a name for himself in the Octagon, going 5-1 in his next six. But it wasn't until he went through ten minutes of war with Indiana action hero Chris Lytle that the entire MMA world took notice of the Brazilian bomber.
Matt Hughes (Watch on UFC FIGHT PASS)
Five months after the Fight of the Night with Lytle, Alves dispatched another contender in Karo Parisyan, but no win was bigger than the one over former world champion and future Hall of Famer Matt Hughes. Alves missed weight for the bout, but any thoughts of that miss disappeared when he scored with the flying knee that led to the finish.
Josh Koscheck (Watch on UFC FIGHT PASS)
Now a serious threat to the welterweight crown, Alves just had to win one more fight to secure a shot at champion Georges St-Pierre, and he expected his opponent at UFC 90 to be Diego Sanchez. But when Sanchez was injured, in stepped Josh Koscheck. It didn't matter to Alves, who still got the W, winning a hard-fought decision over Koscheck.
Jordan Mein (Watch on UFC FIGHT PASS)
Alves got his title shot against St-Pierre after he beat Koscheck, but GSP defeated the Brazilian on the huge UFC 100 card in July 2009. Alves didn't return for nearly a year, and when he did, he lost a decision to Jon Fitch. Over the next few years, Alves battled injuries and inconsistency, and when he met up with Jordan Mein, it was more of the same, as he fell behind early against the Canadian. But in the second, Alves rescued victory from the jaws of defeat with a liver kick that marked the beginning of the end for Mein.
Patrick Cote (Watch on UFC FIGHT PASS)
A brief visit to the lightweight division to face Jim Miller in 2016 wasn't a successful one for Alves, but when the "Pitbull" returned to 170 pounds in April 2017 to face fellow veteran Patrick Cote, it was Alves delivering one of his best efforts as he scored a shutout win over "The Predator."