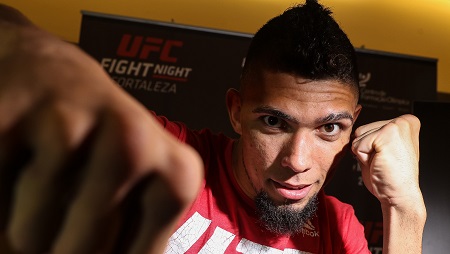 If you were coming up with the prototypical combat sports star, take a kid from Brazil who trained in England, watch him knock people out and then name him after an iconic scotch brand.
Meet Johnny Walker. Yes, Johnny Walker.
"Everybody thinks that my father was drunk when he registered me, but he doesn't even drink," laughs Walker. "Everybody always asks why I got the name and I don't even know why a hundred percent."
It's a conversation starter, for sure, especially for someone calling Rio das Ostras home, but then once you see Walker fight, it all comes together. And after just one UFC bout that lasted less than two minutes, the 26-year-old is on everyone's radar, a reality that sits well with him.
"It is comfortable for me," he said. "I love what I do and I am always happy, especially when I fight. I feel free when I am fighting."
"Free" may be the best description for what Walker does on fight night, and it was evident when he halted Khalil Rountree Jr. in November. It's hard to believe that at this time last year, he was getting ready for a bout with Stuart Austin, just another prospect looking to improve his 10-3 record.
"I thought that if I kept doing a good job I would reach my objective," he said of his mindset leading up to the Austin fight. "It was my first fight since moving to the UK, so I knew how important it was."
A knee ended Austin's night in less than three minutes, and two more knockout wins followed, earning Walker a call to compete on last summer's Brazilian version of the Contender Series. Walker delivered, decisioning UFC vet Henrique da Silva, and all of a sudden, he was a UFC fighter, a contract he broke in with the win over Rountree.
"2018 was great and everything went right, but I am sure that 2019 will be even better," Walker said. "That's where I am focused right now."
On Saturday, Walker makes his second UFC start against Justin Ledet in Fortaleza. He knows he's in for a fight, but it's one he believes he will be victorious in.
"Any fighter with three wins inside the UFC has to be respected," Walker said of his foe. "But I believe I am better than him in every area."
There's the confidence that goes with his freeform improvisation on fight night. Is it any wonder why fight fans want to see what Mr. Walker does next? Jeez, even the fighter wants to see what's next.
"I don't feel any pressure to be honest," he said. "I always want to see Johnny Walker fight myself, so I understand how the people are feeling since my first fight."
There's the next piece to the puzzle. Charisma. Walker has it, and while he is seen by many as the next big thing from Brazil, this light heavyweight isn't limiting himself to his home country.
"I want to be the next big star from Brazil, but I don't want to be seen as just another Brazilian star," he said. "I am a man of the world. I lived in Scotland, then England and did my camp in Thailand for this fight, I am already planning a new country for my next camp and I want to get fans from all over the world."
He's off to a good start on that quest. The next challenge? Meeting and beating the elite at 205 pounds. Guess what? He's ready for that too.
"I feel that the light heavyweight division is living a transition moment," he said. "It was very shallow for a while, but some interesting guys are starting to show up, and I believe that I am the best out of them. Regarding a move to fighting the top contenders, I believe that before the end of the year, you will see me in those big fights."
And in the meantime?
"I want to be called the Bonus Hunter, but for that, I need to start collecting bonuses," Walker said. "I already got one, so expect me to go after the second, the third and so on…"